VandeWater & Associates
Licensed Real Estate Brokerage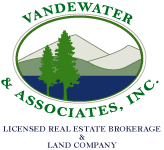 SAVE $10,000
WINTER ACREAGE AND WATERFRONT SALE
70 ACRES WITH OVER 1000 FEET ON A SPECTACULAR ADIRONDACK RIVER COMPLETE WITH 1300 FEET ON PRIVATE POND
WAS $79,900 NOW ONLY $69,900, "UNBELIEVABLY PRICED"
COME AND SEE THIS WINTER WONDERLAND INVESTMENT TODAY 315-348-8884
Click here for details
What is a 1031
Section 1031 of the Internal Revenue Code provides that no gain or loss shall be recognized on the exchange of property held for productive use in a trade or business, or for investment. A tax deferred exchange is a method by which a property owner trades one or more relinquished properties for one or more replacement properties of like-kind, while deferring the payment of federal income taxes and some state taxes on the transaction.
Top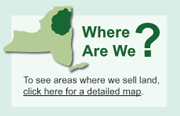 "

I purchased a beautiful Adirondack property four years ago from VandeWater & Associates. It was among several parcels expertly developed by VandeWater along the East Canada Creek including a substantial access road, adequately cleared home site and a secure gate. I was pleased with the professionalism, courtesy, and attention to detail demonstrated by VandeWater during the sale transaction and was similarly impressed when he efficiently brokered the sale of my property to a new owner. I had a very positive experience dealing with VandeWater & Associates and would enthusiastically recommend them to anyone interested in owning property in upstate New York or wherever he transacts his business.

"

A. Fleischer, M.D.