VandeWater & Associates
Licensed Real Estate Brokerage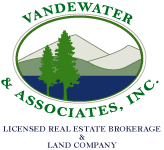 VANDEWATER & ASSOCIATES WOULD LIKE TO TAKE A MOMENT THROUGH THESE CRAZY AND PECULIAR DAYS TO SAY THAT WE KNOW NO MATTER WHERE YOU AND YOUR FAMILY ARE RIGHT NOW WE PRAY FOR YOUR HEALTH AND SAFETY AND WANT YOU TO STILL DREAM ABOUT OWNING YOUR OWN PROPERTY TO ENJOY THE SOUNDS OF CASCADING STREAMS AND RIVERS WHILE YOU IMAGINE SITTING AT THE CRACKLING AND SOOTHING SOUNDS OF YOUR CAMPFIRE. WE ARE HERE TO REMIND YOU AND SHARE WITH YOU OUR CURRENT INVENTORY OF PROPERTIES THAT WILL HOPEFULLY HELP YOU FORGET OF ALL THE CRAZINESS THAT WE HAVE ALL EXPERIENCED RECENTLY AND WILL NEVER LET GO IN OUR HEARTS. I WANT TO BRING YOU AND YOUR FAMILY AS CLOSE TO NATURE AS ONE COULD IMAGINE. BREATH THE AIR, SMELL THE AROMAS OF THE SEASONS AND CREATE MEMORIES THAT WILL NEVER BE FORGOTTEN ABOUT.
CALL ME ABOUT ANY OF OUR PROPERTIES AT ANY TIME AT 315-348-8884 OR WWW.VANDEWATERLAND.COM
THANK YOU FOR CONSIDERING US : DAVID VANDEWATER , PRESIDENT VANDEWATER & ASSOCIATES
​
Click here for details
Area Links
With almost 20 years of experience in the Adirondacks, VandeWater & Associates specializes in all aspects of land sales and development and has comprehensive knowledge of the Upstate New York/Adirondack region.
The Adirondacks and the beautiful surrounding areas have so much to offer whether you are looking for local attractions, recreational activities, or simply a place to stay. Every season of the year brings with it wonderful opportunities to experience the Adirondacks and the beauty of the outdoors.
To help you get better acquainted with the magnificent Adirondack region and give you more information about things to do and see in the area, visit these links for more information:


Ridgeview Motor Lodge
Kovach Rentals & Repair

Highmarket Inn & Highmarket Sports
Tug Hill Hook & Ladder (Tug Hill Inn)
Flat Rock Inn
Lewis County Chamber of Commerce
North Country Guide
Better Business Bureau
Adirondack Resources


For more information regarding the Adirondack region, visit these links below:


Adirondack North Country Association
A non-for-profit organization focused on economic development in the North Country region.

An organization focusing on improving agriculture in the Adirondack region.
A conservation organization focusing on creating a sustainable and safe habitat for birds and animals of the Adirondack region.

An organization that brings people together to fight for global climate change.
An organization with a goal of inspiring Americans to care and protect the wild lands.
Adirondack Recreational Resources

For more information regarding the Adirondack region, visit these links below:
A tourism website focusing on sharing the experience of the Adirondack region with helpful links on lodging, and activities.

A tourism website touching upon the main outdoor activities that are available in the summer and fall seasons.

An extensive archive on the history, ecology, rules, and activities of the Adirondack region.
An online handbook regarding the environment, tourism, real estate, events, and businesses of the Adirondack region.
360dacks
A tourism website offering virtual tours of attractions, lodging, and events.

Top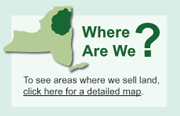 "

VandeWater & Associates,

Thank you so much for selling our property. We came to you with the task of selling our property in the worst market imaginable. When we signed up I was surprised at your professionalism, I was used to dealing with agents that were mostly a promise with no delivery of the level of professionalism you showed. I was equally impressed with how you related to my situation, of having to sell, and my love for the land I've hunted for years. You took the time with me to walk every trail and look over all the camps. Anyway, I thought that I had handed you an impossible task, but you took it on with a handshake and honesty. When you called me less than a week later about showing the property I thought, this has to be a setup. I was quickly made aware of your tenacity as each week that followed you called about other showings. You gave me honest and accurate suggestions of things I should do to better our chances for a sale based on the feedback you got from potential buyers. Then within four months you had several people coming to you with their contractors and such I was blown away. When I thought of selling due to my situation, I said it could never happen in this economy, but here we were talking offers within four months. After working with me, the Seller, and also the buyer I was happy to see the way you made sure everything went smoothly and that my interests were covered. Not only did you sell the land I had hunted for over twenty years and loved so much, you introduced me to the buyer who, like me, loved all things outdoors and invited me to hunt the land he just bought that I used to hunt. Dave, all I can say is I wish everyone I deal with were as upfront and tenacious as you but with honesty and sincerity to boot. All I know is, anyone that I speak to that is looking for land up your way I will tell them to call VandeWater and Associates. Hopefully in the future I'll be able to buy land again and I'll definitely be calling VandeWater.

Thank You So Much, Richard Preti

"

Richard Preti