VandeWater & Associates
Licensed Real Estate Brokerage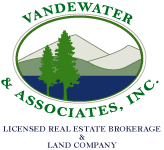 VANDEWATER & ASSOCIATES WOULD LIKE TO TAKE A MOMENT THROUGH THESE CRAZY AND PECULIAR DAYS TO SAY THAT WE KNOW NO MATTER WHERE YOU AND YOUR FAMILY ARE RIGHT NOW WE PRAY FOR YOUR HEALTH AND SAFETY AND WANT YOU TO STILL DREAM ABOUT OWNING YOUR OWN PROPERTY TO ENJOY THE SOUNDS OF CASCADING STREAMS AND RIVERS WHILE YOU IMAGINE SITTING AT THE CRACKLING AND SOOTHING SOUNDS OF YOUR CAMPFIRE. WE ARE HERE TO REMIND YOU AND SHARE WITH YOU OUR CURRENT INVENTORY OF PROPERTIES THAT WILL HOPEFULLY HELP YOU FORGET OF ALL THE CRAZINESS THAT WE HAVE ALL EXPERIENCED RECENTLY AND WILL NEVER LET GO IN OUR HEARTS. I WANT TO BRING YOU AND YOUR FAMILY AS CLOSE TO NATURE AS ONE COULD IMAGINE. BREATH THE AIR, SMELL THE AROMAS OF THE SEASONS AND CREATE MEMORIES THAT WILL NEVER BE FORGOTTEN ABOUT.
CALL ME ABOUT ANY OF OUR PROPERTIES AT ANY TIME AT 315-348-8884 OR WWW.VANDEWATERLAND.COM
THANK YOU FOR CONSIDERING US : DAVID VANDEWATER , PRESIDENT VANDEWATER & ASSOCIATES
​
Click here for details
Testimonials
I can't say enough about the professional service I received while selling my property. I dare say that there hasn't been a harder property to sell and yet, Dave found a way. He could have threw his hands up and said, sorry, but instead, he worked through all proper channels to help me get the best deal possible. He didn't settle, and he didn't expect me either. He went above and beyond to make sure I wasn't taken advantage of and that I compiled with all necessary agencies to protect my interests. He ALWAYS returned my calls or e-mails promptly. He sometimes had to push me (just a little) to get my lawyer to move things along, but without his expertise and commitment I would not have known or understood how any of this process worked. I highly recommend VandeWater & Asssociates especially if you are new to selling or buying because he will have your back! Thank you so so so so so much!
T Wison
"

I would like to take this opportunity to express my sincere gratitude to the staff of VandeWater & Associates. Although I now live in Virginia, my heart has always been in the Adirondacks. Over the years my wife and I have searched high and low for property in or near the park. Until we came into contact with VandeWater & Associates I had almost given up hope of finding my dream retirement spot. They spent the better part of a cold winter day walking a piece of ground with me, locating property corners and introducing me to my dream. With their help and guidance my wife and I were successful in our quest and are looking forward to a quiet retirement home in the north woods. Thank you VandeWater & Associates!

"

Mike Piontka
Top