VandeWater & Associates
Licensed Real Estate Brokerage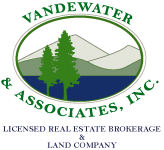 Posted 10/26/2021
12.42 ACRES TOWN OF LEWIS, LEWIS COUNTY, NY
Over 400 feet on "Muscoby" Pond.
New driveway
Over 300 feet of crystal-clear stream frontage feeds this waterfront paradise
Easily accessed with over 400 feet of paved road frontage with power and telephone
Direct access to main snowmobile and ATV trail system leading to some cozy Restaurants and Pubs
Only $44,900
​
315-348-8884/800-615-2321 www.vandewaterland.com
Click here for details
Beautiful Tug Hill & Adirondack Land for Sale in NY!
Upstate New York Land for Sale — Breathtaking, Affordable, and Easily Accessible
Experience the magnificence of Upstate New York land with the picturesque Adirondack and Tug Hill regions as your backdrop. VandeWater and Associates Land Company offers a fantastic selection of the highest quality property investments in the Northeast including:
VandeWater Land for Sale in New York State —
The smart investment with the only 100% Buy-Back Guarantee!
Upstate New York land is one of the smartest investments you can make in today's economy. And with VandeWater, your investment is covered by the only
100% Buy-Back Guarantee
in the industry! That means we guarantee the land you purchase is 100% suitable for building and development.
Only VandeWater has the experience you want,
the knowledge you expect, and the services you need
VandeWater has over 30 years experience selling, buying, and living in the breathtaking regions of Upstate New York. We love the area, we know the land, and we've got everything you need to turn your vision into a reality:
Call us anytime for questions, information, or to personally visit any of the exciting properties listed on our site. We are available for appointments 7 days a week.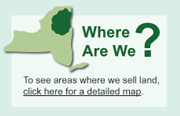 "

Dave was very responsive when I requested to see the property. He answered very quickly. We then also communicated by phone and text and answered all my questions that I had. When I wanted to show the property to my wife and kids, Dave accommodated our timeline and time requests, even when he drove from far away (over 1 hour drive, if I remember right). Once we made an offer, he was very quick in communicating with us and with the seller. So, I have had a good experience with Dave and I recommend his services.

"

Costel Darie
CHECK OUT OUR NEW X-PRESS PAY!!!




Or
E-CHECKS