VandeWater & Associates
Licensed Real Estate Brokerage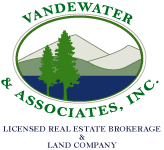 ​NEW FALL LAND SALE IN THE BEAUTIFUL FINGER LAKES REGION
CLOSE TO CORTLAND & ITHACA AND OSWASCO LAKE
16 ACRES WITH OVER 1100 FEET OF CASCADING STREAM FRONTAGE WITH SEVERAL MAGNIFICENT WATERFALLS
ONLY $49,900
For more information call 315-348-8884 or 800-615-2321 www.vandewaterland.com
​
Click here for details
Beautiful Tug Hill & Adirondack Land for Sale in NY!
Upstate New York Land for Sale — Breathtaking, Affordable, and Easily Accessible
Experience the magnificence of Upstate New York land with the picturesque Adirondack and Tug Hill regions as your backdrop. VandeWater and Associates Land Company offers a fantastic selection of the highest quality property investments in the Northeast including:
VandeWater Land for Sale in New York State —
The smart investment with the only 100% Buy-Back Guarantee!
Upstate New York land is one of the smartest investments you can make in today's economy. And with VandeWater, your investment is covered by the only
100% Buy-Back Guarantee
in the industry! That means we guarantee the land you purchase is 100% suitable for building and development.
Only VandeWater has the experience you want,
the knowledge you expect, and the services you need
VandeWater has over 30 years experience selling, buying, and living in the breathtaking regions of Upstate New York. We love the area, we know the land, and we've got everything you need to turn your vision into a reality:
Call us anytime for questions, information, or to personally visit any of the exciting properties listed on our site. We are available for appointments 7 days a week.
Click here to Like us on Facebook to get Exclusive Sales and Share with your friends!!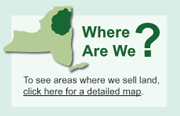 "

I purchased a beautiful Adirondack property four years ago from VandeWater & Associates. It was among several parcels expertly developed by VandeWater along the East Canada Creek including a substantial access road, adequately cleared home site and a secure gate. I was pleased with the professionalism, courtesy, and attention to detail demonstrated by VandeWater during the sale transaction and was similarly impressed when he efficiently brokered the sale of my property to a new owner. I had a very positive experience dealing with VandeWater & Associates and would enthusiastically recommend them to anyone interested in owning property in upstate New York or wherever he transacts his business.

"

A. Fleischer, M.D.
CHECK OUT OUR NEW X-PRESS PAY!!!




Or
E-CHECKS