VandeWater & Associates
Licensed Real Estate Brokerage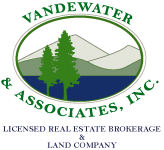 Testimonials
Worked with them to purchase a cabin they had listed. Being an almost 5 hour drive, I was pleased to arrive and see the cabin not only met, but exceeded my expectations from the listing. My offer was promptly accepted and the closing process was smooth. Look forward to enjoying this property for years to come, and David has proven to be a valuable contact for someone new to the area, even after closing. From a buyers perspective, as a real estate professional, I have no complaints about Vandewater & Associates.
Gordon Ingals
---
"Rebecca was a pleasure to work with in selling our home. She was quick and informative in returning any messages we sent her and answering any questions we had even outside of business hours. She sold the house far more quickly than I expected possible and for the full asking price. I'm pleased with the service she provided and thankful for all she did"
Logan Murphy
Logan Murphy
---
Rebecca,
Some things are meant to be! We are so appreciative of your diligent and expert service in finding our new camping spot. We enjoyed how personable you are and your prompt follow through and follow up on every point we requested (even after the close). Already making new family memories.
Take care
Definitely recommend!
Scott and Elizabeth Ashley
Scott and Elizabeth Ashley
---
Dear Tom,
Thank you for your diligence and persistence in getting the Philadelphia property sold! It was a pleasure having you on board selling the property.
Sincerely,
Jenny Lynn
Jenny Lynn
---
My wife and I were looking for a piece of land for a change of scenery getaway and found a property on their website. We knew it would not stay listed for long, so we reached out. It was late evening, but David responded to us immediately. He also communicated with us all weekend to answer our questions. The sale process was seamless. Thank you for helping us start our dream.
Thanks,
-Mike
Michael Bushardt
---
"working with Vandewater was an absolute pleasure. I own a business and over the years have come to expect poor communication, over promising and under delivering and ultimately having to fight for what was promised. The experience with Alex (AJ) and the group far surpassed my expectations. It was so nice to see professionalism intersect with a family feel. The communication was prompt and thorough. In purchasing the land I requested additional services for clearing and the pricing was fair and the job surpassed expectations. I plan to use them again in the Spring for more site development work. I would definitely recommend the group and look forward to seeing how our vacation property develops."
Piper
Piper Titus
---
"David and his staff are true professionals because they genuinely care about their customers' needs and are passionate about their work. I am very pleased with my decision to have placed my trust in David and his team. I was thrilled when my property sold near the listing price. I highly recommend Vandewater & Associates, Inc. to anyone contemplating buying or selling their property in the Adirondack's and surrounding area."
"I would also like to add a special thanks to the ongoing friendly and thorough service by Marilyn in the office!!"
May your future be filled with success and prosperity.
Thank you for everything.
Best wishes,
Willard and Iris
Willard Williams
---
Selling my Adirondack cabin was truly a bittersweet decision for me, but Marilyn and Dave's warmth, professionalism, and deep knowledge of the market gave me confidence and comfort throughout the process. Marilyn communicated regularly and clearly and was super-responsive, and the whole transaction couldn't have gone more smoothly.
Rebecca Downing
Rebecca Downing
---
My wife and I had been looking at camps/cabins on and off for a few years - we never really considered purchasing land to build on - thought it would be far too much work. When we came across a piece of property that we thought had potential, we contacted Vandewater and received a call back from Marilyn. We found her to be very welcoming, always accommodating with meeting times, and most importantly, we found her to be authentic. She was honest, explained things in plain English, had an excellent working knowledge of the area, and helped make us feel comfortable. Now that we've purchased the property, we continue to contact Marilyn from time to time for service recommendations, etc - she's as responsive and welcoming post sale as she was pre-sale. We'd recommend working with her in a heartbeat - Scott & Lorraine Fountain
Scott and Lorraine Fountain
---
I am so thankful for Dave and his team! I live in Phila. and was selling my property. I totally trusted Dave and he got the job done. He also referred McArdle & Randall, to help with my closing because I couldn't attend due to an illness in my family. I highly recommend Dave & his team!
Shawn Ritchie
---
Angie, thank you to you and Dave for all of your help in the purchase of our property. Angie, your dedication to help us and in the expedited manner in which you handled our closing is unmatched to any of my previous real estate dealings. Thank you both for all you did outside of the normal 9:00-5:00 Mon-Fri work schedule to help us secure our little slice of Heaven. It truly is a treat to see true customer service in today's world. Thank you.
Jodi & Ron Barnes
---
Dave was very responsive when I requested to see the property. He answered very quickly. We then also communicated by phone and text and answered all my questions that I had. When I wanted to show the property to my wife and kids, Dave accommodated our timeline and time requests, even when he drove from far away (over 1 hour drive, if I remember right). Once we made an offer, he was very quick in communicating with us and with the seller. So, I have had a good experience with Dave and I recommend his services.
Costel Darie
---
My husband and I live in Quakertown PA about a 5 hour drive to Glenfield NY. We both love the area and vacation in the Adirondacks often. We decided to purchase a small cabin up off the Otter Creek Horse Trail System. We reached out to Marilyn Patterson from Vandewater & Associates located in Lyons Falls NY. Knowing we would be traveling a good distance she made sure we had a significant amount of properties to look at while we were there for the weekend. Out of 3 lots and 5 homes she took us to where we found our cabin that same day and we couldn't be happier. She coordinated everything with the seller and even found us a NY based lender. We highly recommend Vandewater & Marilyn
Tom & Angel Buschmeier
January 2020
Tom & Angel Buschmeier
---
I can't say enough about the professionalism service I received while selling my property. I dare say that there hasn't been a harder property to sell and yet, Dave found a way. He could have threw his hands up and said sorry, but instead, he worked through all proper channels to help me get the best deal possible. He didn't settle, and he didn't expect me either. He went above and beyond to make sure I wasn't taken advantage of and that I compiled with all the necessary agencies to protect my interest. He ALWAYS returned my calls or e-mails promptly. He sometimes had to push me (just a little) to get my lawyer to move things along, but without his expertise and commitment I would have not known or understood how any of this process worked. I highly recommend Vandewater & Associate especially if you are selling or buying because he will have your back! Thank you so so so so so much!
T. Wilson
---
Easy to navigate website friendly staff.
Cinnamon Becker
---
I can't express how pleased my husband and I are that we chose Vandewater and Associates to help us fulfill our dream of owning Otter Creek property. David Vandwater listened to what we wanted, saw our vision and went above and beyond to assist us in achieving our goals. Even after closing, David continues to offer whatever assistance he can provide to help with developing our new property.
Lorri Lovett
---
Thank you David. We are extremely excited for this opportunity to own a beautiful property. The process with you and your staff has been wonderful. There was not one questioned ignored, you guys answered them all whether it be email or text. You and your staffs professionalism speaks volumes and doesn't go unnoticed. Thank you again......
Will Guarino
---
From the timely arrival of the postcard that led me here to the seamless listing process and of course the satisfactory sale of my land, the process was good. I especially appreciated the fast response on any outreach I made. Happy to recommend to others.
Alan Glickstein
---
"...Although the property is a considerable distance from where we live, we decided to inquire about it over the Christmas weekend. Dave had no idea we were going pop up for the weekend but he made accommodations to meet us Monday, December 23, 2018 to show us our future piece of the Adirondack. Dave paid attention to our needs and concerns, without pressuring us to make an immediate decision. When we returned to Dave's office we decided to buy and made our offer. Dave assured us that he would assist us with anything we needed not only during the transaction but also afterwards.
To say the least, our transaction has not been smooth but we have had nothing but patience from Vandewater & Associates and the sellers. The whole VandeWater office people are very professional and kept their word in assisting us with different matters, even still to this day. For that we are indeed grateful.
Thank you for keeping your word, for your professionalism and great services. We will be happy to refer you to anyone who is about to buy property in your area."
Steve & Brenda & Coy Bathurst
---
VandeWater & Associates,
We really appreciate you finding this property for us. We camped there for the first time and it was everything we hoped for and more. We got to meet the neighbors and their dogs and everyone was very nice. We wish we could get there more often. So thank you again for all your help. We would gladly recommend your company to anyone.
Sincerely;
Joe and Karen Connelly
June 2016
Joe and Karen C
---
VandeWater & Associates,
Thank you so much for selling our property. We came to you with the task of selling our property in the worst market imaginable. When we signed up I was surprised at your professionalism, I was used to dealing with agents that were mostly a promise with no delivery of the level of professionalism you showed. I was equally impressed with how you related to my situation, of having to sell, and my love for the land I've hunted for years. You took the time with me to walk every trail and look over all the camps. Anyway, I thought that I had handed you an impossible task, but you took it on with a handshake and honesty. When you called me less than a week later about showing the property I thought, this has to be a setup. I was quickly made aware of your tenacity as each week that followed you called about other showings. You gave me honest and accurate suggestions of things I should do to better our chances for a sale based on the feedback you got from potential buyers. Then within four months you had several people coming to you with their contractors and such I was blown away. When I thought of selling due to my situation, I said it could never happen in this economy, but here we were talking offers within four months. After working with me, the Seller, and also the buyer I was happy to see the way you made sure everything went smoothly and that my interests were covered. Not only did you sell the land I had hunted for over twenty years and loved so much, you introduced me to the buyer who, like me, loved all things outdoors and invited me to hunt the land he just bought that I used to hunt. Dave, all I can say is I wish everyone I deal with were as upfront and tenacious as you but with honesty and sincerity to boot. All I know is, anyone that I speak to that is looking for land up your way I will tell them to call VandeWater and Associates. Hopefully in the future I'll be able to buy land again and I'll definitely be calling VandeWater.
Thank You So Much, Richard Preti
Richard Preti
---
I purchased a beautiful Adirondack property four years ago from VandeWater & Associates. It was among several parcels expertly developed by VandeWater along the East Canada Creek including a substantial access road, adequately cleared home site and a secure gate. I was pleased with the professionalism, courtesy, and attention to detail demonstrated by VandeWater during the sale transaction and was similarly impressed when he efficiently brokered the sale of my property to a new owner. I had a very positive experience dealing with VandeWater & Associates and would enthusiastically recommend them to anyone interested in owning property in upstate New York or wherever he transacts his business.
A. Fleischer, M.D.
---
Geri and I had been searching for a country home for better than two years. We looked in various states without success. Then we had the good fortune to speak to VandeWater & Associates. They understood our interest and needs and introduced us to the property that became our new home. The log home and the large property was a perfect match.
They spent endless time with us showing the property and answering the multitude of questions we had concerning moving from city life to a rural and lovely setting. They introduced us to neighbors as well as local merchants and services that have proven invaluable in this dramatic and wonderful change. Even after the closing he continues to stay in touch. They continue to show interest in how we are doing in our new local.
The entire process was professional and friendly. We greatly appreciate the interest they took in all aspects of this venture of ours.
David & Geri Masaryk
---
As spring approaches and my friends and I plan the upcoming season at my new camp, I'd like to take this opportunity to thank you for a pleasurable land purchasing experience. With the help of VandeWater & Associates, I am the proud owner of a beautiful wooded parcel in Herkimer County, NY. My dream of owning a hunting camp for myself, friends and family is now a reality.
Looking for a piece of land for my camp was a bit of a challenge. I wanted property that felt remote, yet was still close enough to civilization for needed food, supplies, lodging, etc. Not an easy find. In my price range, the majority of the land other realtors offered was either so remote as to not allow access for a good portion of the year or was so close to civilization that it backed up to a highway with tractor trailers speeding by day and night. I found the property that you offered to be just what I was looking for.
I have, in the past, purchased real estate, but this was my first time buying rural undeveloped land. As you would expect, I was full of concerns and questions. VandeWater & Associates, helped me along every step of the process and handled my many telephone calls with patience and professionalism. He was very familiar with the land and took the time to walk the entire property with me on more than one occasion. ( The last time as I remember, was in snow up to our knees in 12 degree weather. That's what I call going above and beyond the call of duty) Even after the sale, VandeWater & Associates has been, and continues to be, a great resource to me as a land owner, offering his advice and assistance should it be needed. His help is truly appreciated.
I know first hand that purchasing land can be a harrowing experience. There are many less reputable realtors out there looking to take advantage of the land buyer. I never for a minute felt that about your company. Your team took the time to clearly explain things to me and gave me the tools and "space" I needed to make an informed, sound investment. I would highly recommend VandeWater & Associates to anyone in the market for upstate New York property.
Please give my thanks again to your staff.
Brian Veit
---
have been more pleased and satisfied with my dealings with VandeWater & Associates. Everything was up front and they went the extra mile on all occasions. I have dealt with other realtor's in my life and this was the best experience yet. Again I couldn't be more satisfied.
Joseph J. McConnell
---
I would like to take this opportunity to express my sincere gratitude to the staff of VandeWater & Associates. Although I now live in Virginia, my heart has always been in the Adirondacks. Over the years my wife and I have searched high and low for property in or near the park. Until we came into contact with VandeWater & Associates I had almost given up hope of finding my dream retirement spot. They spent the better part of a cold winter day walking a piece of ground with me, locating property corners and introducing me to my dream. With their help and guidance my wife and I were successful in our quest and are looking forward to a quiet retirement home in the north woods. Thank you VandeWater & Associates!
Mike Piontka
---
...although the property was a considerable distance from where we live, we decided to inquire about it. After our phone call to Dave we received more information about different listings and the area they were in, we made an appointment with them to see it personally. The following Saturday they showed us not only the property we were interested in but also other places for sale. They paid attention to our needs and concerns, without pressuring us to make an immediate decision. When we returned home we decided to buy but the distance of this place was still bothersome. Dave, you assured us that you would assist us with anything we needed not only during the transaction but also afterwards.
To say the least, our transaction was smooth and the settlement took place without us being there in person. The whole VandeWater office, Dave you were very professional and kept their word in assisting us with different matters, even still to this day. For that we are indeed grateful.
Thank you for keeping your word, for your professionalism and great services. We will be happy to refer you to anyone who is about to buy property in your area.
Walter & Vera Bursztynski
---
We shopped for land all over the country via the Internet and we are very happy we found vandewaterland.com. Some Internet sites we contacted could not locate the land they were selling. Most sites had very little or no knowledge at all of the land they were selling. One site we called referred us to different associates around the country and none were able to locate or give us any help with their property. VandeWater & Associates are a breath of fresh air. They has extensive knowledge of the land they are selling.
VandeWater & Associates hand selects just a few properties to develop from a long list of entrees. Dave VandeWater walks all of the land they are selling before they develop it. It was a real pleasure to deal with true professionals. Quality was evident every step of the way even in the smallest of details. Thanks we could not be happier!
Rick Rowinski
Top