VandeWater & Associates
Licensed Real Estate Brokerage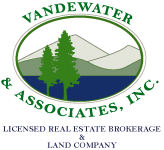 VANDEWATER & ASSOCIATES WOULD LIKE TO TAKE A MOMENT IN THESE CRAZY TIMES AND PECULIAR DAYS TO SAY, NO MATTER WHERE YOU AND YOUR FAMILY ARE, WE PRAY FOR YOUR HEALTH AND SAFETY. WE KNOW YOU STILL DREAM ABOUT OWNING YOUR OWN PROPERTY AND IMAGINE SITTING BY YOUR CRACKLING, SOOTHING CAMPFIRE WHILE LISTENING TO CASCADING STREAMS AND RIVERS. WE ARE HERE TO REMIND YOU OF YOUR DREAM AND SHARE OUR CURRENT INVENTORY OF PROPERTIES TO HELP YOU FORGET, FOR JUST A MOMENT, THE CURRENT CRAZINESS WE ARE ALL EXPERIENCING AND HELP YOU KEEP THAT DREAM IN YOUR HEART. I WANT TO BRING YOU AND YOUR FAMILY AS CLOSE TO NATURE AS ONE CAN IMAGINE. BREATHE THE AIR. SMELL THE AROMAS OF THE SEASONS, AND CREATE MEMORIES THAT WILL LAST FOREVER.
CALL ME ABOUT ANY OF OUR PROPERTIES AT ANY TIME AT 315-348-8884 OR WWW.VANDEWATERLAND.COM
THANK YOU FOR CONSIDERING US: DAVID VANDEWATER, PRESIDENT VANDEWATER & ASSOCIATES
CHECK OUT OUR WEB-SITE UNBELIEVABLE SOUTHERN ADIRONDACK LAND REDUCTION SALE 25 ACRES $10,000 IN SAVINGS
Click here for details
Area Links
With almost 20 years of experience in the Adirondacks, VandeWater & Associates specializes in all aspects of land sales and development and has comprehensive knowledge of the Upstate New York/Adirondack region.
The Adirondacks and the beautiful surrounding areas have so much to offer whether you are looking for local attractions, recreational activities, or simply a place to stay. Every season of the year brings with it wonderful opportunities to experience the Adirondacks and the beauty of the outdoors.
To help you get better acquainted with the magnificent Adirondack region and give you more information about things to do and see in the area, visit these links for more information:


Ridgeview Motor Lodge
Kovach Rentals & Repair

Highmarket Inn & Highmarket Sports
Tug Hill Hook & Ladder (Tug Hill Inn)
Flat Rock Inn
Lewis County Chamber of Commerce
North Country Guide
Better Business Bureau
Adirondack Resources


For more information regarding the Adirondack region, visit these links below:


Adirondack North Country Association
A non-for-profit organization focused on economic development in the North Country region.

An organization focusing on improving agriculture in the Adirondack region.
A conservation organization focusing on creating a sustainable and safe habitat for birds and animals of the Adirondack region.

An organization that brings people together to fight for global climate change.
An organization with a goal of inspiring Americans to care and protect the wild lands.
Adirondack Recreational Resources

For more information regarding the Adirondack region, visit these links below:
A tourism website focusing on sharing the experience of the Adirondack region with helpful links on lodging, and activities.

A tourism website touching upon the main outdoor activities that are available in the summer and fall seasons.

An extensive archive on the history, ecology, rules, and activities of the Adirondack region.
An online handbook regarding the environment, tourism, real estate, events, and businesses of the Adirondack region.
360dacks
A tourism website offering virtual tours of attractions, lodging, and events.

Top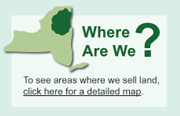 "

I can't express how pleased my husband and I are that we chose Vandewater and Associates to help us fulfill our dream of owning Otter Creek property. David Vandwater listened to what we wanted, saw our vision and went above and beyond to assist us in achieving our goals. Even after closing, David continues to offer whatever assistance he can provide to help with developing our new property.

"

Lorri Lovett