VandeWater & Associates
Licensed Real Estate Brokerage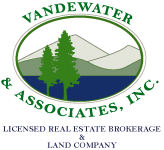 FAQS
Thank you for your interest in VandeWater & Associates and the magnificent properties that we have to offer you. We understand that buying property is an important decision and that you will have many questions as you go through the process of making a purchase. We promise to take the time to learn about your objectives and specific interests so that we can provide affordable Adirondack properties that are the right fit for you. Below we have listed some of the more frequently asked questions and provided you with the information you need to help get some of them answered. We look forward to speaking with you so that we can help make your dream of owning Adirondack property come true.
How can I be sure that VandeWater is a company in good standing?
VandeWater & Associates, Inc. is a privately owned company with 31 years of experience. We're members of Better Business Bureau and active in the Chamber of Commerce. Our sales people are all accredited by the NY State Department of Real Estate Licensing Bureau. Still, we think our customers can speak volumes about our reputation. Click here to learn more about VandeWater & Associates from customer's testimonials.
How do I begin the process of acquiring Adirondack property?
Contact us via our website and a representative will get back to you within the same day or call us at (800) 615-2321 to talk about your interest in acquiring land in beautiful Upstate New York. We take the time to learn about your objectives and specific interests so that we can provide affordable Adirondack properties that are the right fit for you. We are available for appointments 7 days a week and will be happy to schedule a time to meet with you at our office or onsite at a specific property.
How will I know that my property is buildable?
VandeWater & Associates guarantees that your land is buildable. Our properties are chosen based on a multitude of criterion and go through a rigorous assessment by our experts including engineers who make this determination. If for some reason the land that you purchase is unable to support systems needed for buildable land, we will refund your money inclusive of all closing costs. We stand behind our commitment to you as a VandeWater customer and make certain that you are satisfied – no other land company in the Adirondack region will make you this promise.
Do I need an attorney when purchasing land?
It is optional if you would like to have an attorney review your paperwork but please note that this would be a cost that you would incur on your own. Because we own all of the properties that we sell, our title documents have already gone through attorney review.
What about taxes?
The tax base is dependent upon the county in which your land exists. We will provide you with the information you need to find out the tax information for your specific property.
What about closing costs?
As is standard, you will incur closing costs when you purchase the property. Closing costs include such things as a New York State and county recording fees, pro-rated taxes and optional title insurance.
Are your properties located on plowed roads and do they have electric and telephone capabilities?
We have a full range of properties to choose from, some with and some without electric and telephone. While some of the properties are located on town maintained roads and already have these capabilities, we also offer land on "seasonal" roads that do not have electric and telephone access. A VandeWater representative will provide you with this information and can put you in touch with the electric or telephone companies for further assistance.
How will I know where my property lines are?
We will make sure that you understand the layout of the property not only via a map, but also by means of a walk-through of the land. As all of our properties will have recently been surveyed, lot lines and boundaries will be visible to eliminate any confusion.
What if I am interested in buying a piece of land in the Adirondacks or neighboring areas in Upstate New York?
A signed contract with a 10% deposit will secure your property until the time of closing and take your chosen property off the market.

What are some of the recreational activities that are popular in the area?
No matter what the season, the Adirondacks and surrounding areas of beautiful Upstate New York boast endless opportunities for recreation. From fishing and boating to hiking and hunting, bird watching and white water rafting, snowmobiling and skiing, to camping and canoeing there is so much to enjoy. Check out our links page to learn more about what the magnificent Adirondack region has to offer you.
Top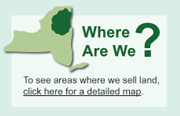 "

Angie, thank you to you and Dave for all of your help in the purchase of our property. Angie, your dedication to help us and in the expedited manner in which you handled our closing is unmatched to any of my previous real estate dealings. Thank you both for all you did outside of the normal 9:00-5:00 Mon-Fri work schedule to help us secure our little slice of Heaven. It truly is a treat to see true customer service in today's world. Thank you.

"

Jodi & Ron Barnes