VandeWater & Associates
Licensed Real Estate Brokerage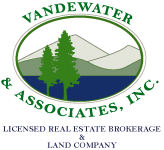 VANDEWATER & ASSOCIATES WOULD LIKE TO TAKE A MOMENT IN THESE CRAZY TIMES AND PECULIAR DAYS TO SAY, NO MATTER WHERE YOU AND YOUR FAMILY ARE, WE PRAY FOR YOUR HEALTH AND SAFETY. WE KNOW YOU STILL DREAM ABOUT OWNING YOUR OWN PROPERTY AND IMAGINE SITTING BY YOUR CRACKLING, SOOTHING CAMPFIRE WHILE LISTENING TO CASCADING STREAMS AND RIVERS. WE ARE HERE TO REMIND YOU OF YOUR DREAM AND SHARE OUR CURRENT INVENTORY OF PROPERTIES TO HELP YOU FORGET, FOR JUST A MOMENT, THE CURRENT CRAZINESS WE ARE ALL EXPERIENCING AND HELP YOU KEEP THAT DREAM IN YOUR HEART. I WANT TO BRING YOU AND YOUR FAMILY AS CLOSE TO NATURE AS ONE CAN IMAGINE. BREATHE THE AIR. SMELL THE AROMAS OF THE SEASONS, AND CREATE MEMORIES THAT WILL LAST FOREVER.
CALL ME ABOUT ANY OF OUR PROPERTIES AT ANY TIME AT 315-348-8884 OR WWW.VANDEWATERLAND.COM
THANK YOU FOR CONSIDERING US: DAVID VANDEWATER, PRESIDENT VANDEWATER & ASSOCIATES
CHECK OUT OUR WEB-SITE UNBELIEVABLE SOUTHERN ADIRONDACK LAND REDUCTION SALE 25 ACRES $10,000 IN SAVINGS
Click here for details
Services
At VandeWater & Associates, we consider ourselves to be unrivaled leaders of the highest quality property investments in the Northeast. We are knowledgeable and experienced with over 20 years in the business and the first company to offer a 100% satisfied buy-back policy.
In addition to offering a wide range of magnificent properties in Upstate New York, we also offer the following services so that we may be a complete resource for owning the most beautiful land in the Adirondack region.
Buying and Selling Land:
Whether you are looking to purchase land or sell your property, our brokerage division is here to help. All of our real estate representatives are accredited by the NY State Department of Real Estate Licensing Bureau and have expertise in the upstate New York region.
At VandeWater & Associates our philosophy is to focus on one magnificent property at a time. We pride ourselves on our Adirondack land expertise and understand the value of your property investment. Our staff specializes in all aspects of land sales and has comprehensive knowledge of the Upstate New York/Adirondack region.
Contact us to begin the process of acquiring or selling property in beautiful Upstate New York. We are available for appointments 7 days a week and will be happy to schedule a time to meet with you at our office or onsite at a specific property.
Financing:
VandeWater & Associates offers competitive rates and package options to meet your specific needs because our goal is to make your dream, of owning the best quality Adirondack property, come true. So when the time comes to handle the financing, there's no need to worry.
Ask your VandeWater representative about our fixed rates and financing plans and find out how you can purchase the best quality land at a price you can afford.
Land Clearing:
Whatever your land clearing needs may be, driveways, building sites, recreational trails, or septic systems, our expert excavators can offer competitive pricing and the experience you need to get your property cleared to your specifications.
Talk to your VandeWater & Associates representative so we can connect you to the professionals you need to complete your land clearing project.
Development of Natural Formations:
A property with natural formations such as lakes or ponds can add substantial value to your investment. We have a wide range of experience in developing and executing plans for natural formations on many types of properties. A team of experts including engineers, surveyors and developers are accessible to you to help add beauty and value to your magnificent Adirondack property.
VandeWater & Associates guarantees that your land is buildable. Our properties are chosen based on a multitude of criterion and go through a rigorous assessment by our experts including engineers who make this determination. If for some reason the land that you purchase is unable to support systems needed for buildable land, we will refund your money inclusive of all closing costs.
Construction:
If your considering building a cabin, vacation home or other project on your property we have the availability to design and build what you would like. Our professionals will help you understand the many styles and options available to you.
Take a look at some of the beautiful detail we have built for our customers. For more information, contact us today.
Top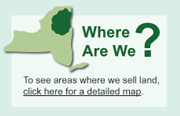 "My husband and I live in Quakertown PA about a 5 hour drive to Glenfield NY. We both love the area and vacation in the Adirondacks often. We decided to purchase a small cabin up off the Otter Creek Horse Trail System. We reached out to Marilyn Patterson from Vandewater & Associates located in Lyons Falls NY. Knowing we would be traveling a good distance she made sure we had a significant amount of properties to look at while we were there for the weekend. Out of 3 lots and 5 homes she took us to where we found our cabin that same day and we couldn't be happier. She coordinated everything with the seller and even found us a NY based lender. We highly recommend Vandewater & Marilyn
Tom & Angel Buschmeier
January 2020"

Tom & Angel Buschmeier