VandeWater & Associates
Licensed Real Estate Brokerage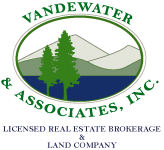 "HUNTERS LOOK NO FURTHER"
22.25 ACRES DIANA, LEWIS COUNTY, NY
Some of the best trophy BIG game hunting in the Northwest Adirondacks. Perfect mix of hardwood and evergreen forest. Over 1000 feet of interior road frontage.
ONLY $34,900
Click here for details
Services
At VandeWater & Associates, we consider ourselves to be unrivaled leaders of the highest quality property investments in the Northeast. We are knowledgeable and experienced with over 20 years in the business and the first company to offer a 100% satisfied buy-back policy. In addition to offering a wide range of magnificent properties in Upstate New York, we also offer the following services so that we may be a complete resource for owning the most beautiful land in the Adirondack region.
Buying and Selling Land:
Whether you are looking to purchase land or sell your property, our brokerage division is here to help. All of our real estate representatives are accredited by the NY State Department of Real Estate Licensing Bureau and have expertise in the upstate New York region. At VandeWater & Associates our philosophy is to focus on one magnificent property at a time. We pride ourselves on our Adirondack land expertise and understand the value of your property investment. Our staff specializes in all aspects of land sales and has comprehensive knowledge of the Upstate New York/Adirondack region.
Contact us to begin the process of acquiring or selling property in beautiful Upstate New York. We are available for appointments 7 days a week and will be happy to schedule a time to meet with you at our office or onsite at a specific property.
Financing:
VandeWater & Associates offers competitive rates and package options to meet your specific needs because our goal is to make your dream, of owning the best quality Adirondack property, come true. So when the time comes to handle the financing, there's no need to worry. Ask your VandeWater representative about our fixed rates and financing plans and find out how you can purchase the best quality land at a price you can afford.
Land Clearing:
Whatever your land clearing needs may be, driveways, building sites, recreational trails, or septic systems, our expert excavators can offer competitive pricing and the experience you need to get your property cleared to your specifications. Talk to your VandeWater & Associates representative so we can connect you to the professionals you need to complete your land clearing project.
Development of Natural Formations:
A property with natural formations such as lakes or ponds can add substantial value to your investment. We have a wide range of experience in developing and executing plans for natural formations on many types of properties. A team of experts including engineers, surveyors and developers are accessible to you to help add beauty and value to your magnificent Adirondack property. VandeWater & Associates guarantees that your land is buildable. Our properties are chosen based on a multitude of criterion and go through a rigorous assessment by our experts including engineers who make this determination. If for some reason the land that you purchase is unable to support systems needed for buildable land, we will refund your money inclusive of all closing costs.
Construction:
If your considering building a cabin, vacation home or other project on your property we have the availability to design and build what you would like. Our professionals will help you understand the many styles and options available to you.
Take a look at some of the beautiful detail we have built for our customers. For more information, contact us today.
Top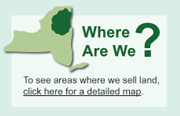 "

I can't say enough about the professionalism service I received while selling my property. I dare say that there hasn't been a harder property to sell and yet, Dave found a way. He could have threw his hands up and said sorry, but instead, he worked through all proper channels to help me get the best deal possible. He didn't settle, and he didn't expect me either. He went above and beyond to make sure I wasn't taken advantage of and that I compiled with all the necessary agencies to protect my interest. He ALWAYS returned my calls or e-mails promptly. He sometimes had to push me (just a little) to get my lawyer to move things along, but without his expertise and commitment I would have not known or understood how any of this process worked. I highly recommend Vandewater & Associate especially if you are selling or buying because he will have your back! Thank you so so so so so much!

"

T. Wilson