VandeWater & Associates
Licensed Real Estate Brokerage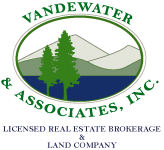 * New * New * New * Posted 5/28/2021
30.71 Acres located in the beautiful Southern Adirondack Region.Over 800 feet of paved road frontage with electric and telephone. Spectacular building sites nestled in this magnificent private evergreen and hardwood forest.
Only $49,900
315-348-8884/800-615-2321 www.vandewaterland.com
Click here for details
Beautiful Tug Hill & Adirondack Land for Sale in NY!
Upstate New York Land for Sale — Breathtaking, Affordable, and Easily Accessible
Experience the magnificence of Upstate New York land with the picturesque Adirondack and Tug Hill regions as your backdrop. VandeWater and Associates Land Company offers a fantastic selection of the highest quality property investments in the Northeast including:
VandeWater Land for Sale in New York State —
The smart investment with the only 100% Buy-Back Guarantee!
Upstate New York land is one of the smartest investments you can make in today's economy. And with VandeWater, your investment is covered by the only
100% Buy-Back Guarantee
in the industry! That means we guarantee the land you purchase is 100% suitable for building and development.
Only VandeWater has the experience you want,
the knowledge you expect, and the services you need
VandeWater has over 30 years experience selling, buying, and living in the breathtaking regions of Upstate New York. We love the area, we know the land, and we've got everything you need to turn your vision into a reality:
Call us anytime for questions, information, or to personally visit any of the exciting properties listed on our site. We are available for appointments 7 days a week.
Click here to Like us on Facebook to get Exclusive Sales and Share with your friends!!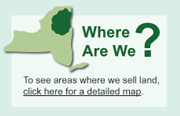 "

I would like to take this opportunity to express my sincere gratitude to the staff of VandeWater & Associates. Although I now live in Virginia, my heart has always been in the Adirondacks. Over the years my wife and I have searched high and low for property in or near the park. Until we came into contact with VandeWater & Associates I had almost given up hope of finding my dream retirement spot. They spent the better part of a cold winter day walking a piece of ground with me, locating property corners and introducing me to my dream. With their help and guidance my wife and I were successful in our quest and are looking forward to a quiet retirement home in the north woods. Thank you VandeWater & Associates!

"

Mike Piontka
CHECK OUT OUR NEW X-PRESS PAY!!!




Or
E-CHECKS