VandeWater & Associates
Licensed Real Estate Brokerage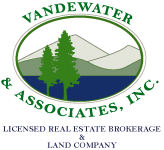 4.48 ACRES WATSON,
LEWIS COUNTY, NY
Only minutes away from some of the best fishing
and boating rivers in the Western Adirondacks.
Over 325 feet of paved Town Road frontage on the
Kotel Rd, with electric and high-speed internet.
ONLY $25,900
Click here for details
Beautiful Tug Hill & Adirondack Land for Sale in NY!
Upstate New York Land for Sale — Breathtaking, Affordable, and Easily Accessible
Experience the magnificence of Upstate New York land with the picturesque Adirondack and Tug Hill regions as your backdrop. VandeWater and Associates Land Company offers a fantastic selection of the highest quality property investments in the Northeast including:
VandeWater Land for Sale in New York State —
The smart investment with the only 100% Buy-Back Guarantee!
Upstate New York land is one of the smartest investments you can make in today's economy. And with VandeWater, your investment is covered by the only 100% Buy-Back Guarantee in the industry! That means we guarantee the land you purchase is 100% suitable for building and development.
Only VandeWater has the experience you want,
the knowledge you expect, and the services you need
VandeWater has over 30 years experience selling, buying, and living in the breathtaking regions of Upstate New York. We love the area, we know the land, and we've got everything you need to turn your vision into a reality:
Financing – Invest in the best quality land at a price you can afford
Land Clearing – Expert excavating for driveways, building, trails, and more
Construction – Build the cabin, vacation or retirement home of your dreams
Development of Lakes and Ponds – Add beauty and value to your investment

Extended Searches

– Still not seeing what you want? We'll find it for you!
1031 Exchange Property – Invest with out losing your equity to taxes

Resale Program

– We have a 100% success rate finding buyers for property

X-PRESS PAY:

Ability to make a deposit on the land of your choice or to rent land through us. Click here
Call us anytime for questions, information, or to personally visit any of the exciting properties listed on our site. We are available for appointments 7 days a week.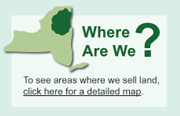 "

Angie, thank you to you and Dave for all of your help in the purchase of our property. Angie, your dedication to help us and in the expedited manner in which you handled our closing is unmatched to any of my previous real estate dealings. Thank you both for all you did outside of the normal 9:00-5:00 Mon-Fri work schedule to help us secure our little slice of Heaven. It truly is a treat to see true customer service in today's world. Thank you.

"

Jodi & Ron Barnes
CHECK OUT OUR NEW X-PRESS PAY!!!




Or
E-CHECKS