VandeWater & Associates
Licensed Real Estate Brokerage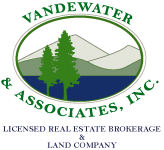 * New * New * New * Posted 7/6/2021
12.33 Acres with over 800 feet on Muscoby Pond. Spectacular building sites overlooking this beautiful pond. Direct access to ATV and Snowmobile trails. Paved town road frontage with electric and telephone.
Only $44,900
315-348-8884/800-615-2321 www.vandewaterland.com
Click here for details
Beautiful Tug Hill & Adirondack Land for Sale in NY!
Upstate New York Land for Sale — Breathtaking, Affordable, and Easily Accessible
Experience the magnificence of Upstate New York land with the picturesque Adirondack and Tug Hill regions as your backdrop. VandeWater and Associates Land Company offers a fantastic selection of the highest quality property investments in the Northeast including:
VandeWater Land for Sale in New York State —
The smart investment with the only 100% Buy-Back Guarantee!
Upstate New York land is one of the smartest investments you can make in today's economy. And with VandeWater, your investment is covered by the only
100% Buy-Back Guarantee
in the industry! That means we guarantee the land you purchase is 100% suitable for building and development.
Only VandeWater has the experience you want,
the knowledge you expect, and the services you need
VandeWater has over 30 years experience selling, buying, and living in the breathtaking regions of Upstate New York. We love the area, we know the land, and we've got everything you need to turn your vision into a reality:
Call us anytime for questions, information, or to personally visit any of the exciting properties listed on our site. We are available for appointments 7 days a week.
Click here to Like us on Facebook to get Exclusive Sales and Share with your friends!!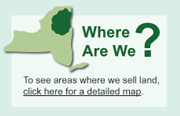 "

My wife and I had been looking at camps/cabins on and off for a few years - we never really considered purchasing land to build on - thought it would be far too much work. When we came across a piece of property that we thought had potential, we contacted Vandewater and received a call back from Marilyn. We found her to be very welcoming, always accommodating with meeting times, and most importantly, we found her to be authentic. She was honest, explained things in plain English, had an excellent working knowledge of the area, and helped make us feel comfortable. Now that we've purchased the property, we continue to contact Marilyn from time to time for service recommendations, etc - she's as responsive and welcoming post sale as she was pre-sale. We'd recommend working with her in a heartbeat - Scott & Lorraine Fountain

"

Scott and Lorraine Fountain
CHECK OUT OUR NEW X-PRESS PAY!!!




Or
E-CHECKS