VandeWater & Associates
Licensed Real Estate Brokerage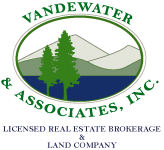 * NEW * NEW * NEW * Posted 9/2/2020
Tug Hill Plateau Land Sale
9.2 Acres with access to a large tract of state land . Over 402 feet of town road frontage directly on ATV and groomed snowmobile trail system.
Only $28,900
*** OTHER LOTS AVAILABLE ***
315-348-8884/800-615-2321 www.vandewaterland.com
Click here for details
Beautiful Tug Hill & Adirondack Land for Sale in NY!
Upstate New York Land for Sale — Breathtaking, Affordable, and Easily Accessible
Experience the magnificence of Upstate New York land with the picturesque Adirondack and Tug Hill regions as your backdrop. VandeWater and Associates Land Company offers a fantastic selection of the highest quality property investments in the Northeast including:
VandeWater Land for Sale in New York State —
The smart investment with the only 100% Buy-Back Guarantee!
Upstate New York land is one of the smartest investments you can make in today's economy. And with VandeWater, your investment is covered by the only
100% Buy-Back Guarantee
in the industry! That means we guarantee the land you purchase is 100% suitable for building and development.
Only VandeWater has the experience you want,
the knowledge you expect, and the services you need
VandeWater has over 30 years experience selling, buying, and living in the breathtaking regions of Upstate New York. We love the area, we know the land, and we've got everything you need to turn your vision into a reality:
Call us anytime for questions, information, or to personally visit any of the exciting properties listed on our site. We are available for appointments 7 days a week.
Click here to Like us on Facebook to get Exclusive Sales and Share with your friends!!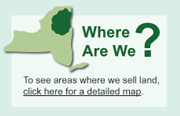 "

I can't say enough about the professionalism service I received while selling my property. I dare say that there hasn't been a harder property to sell and yet, Dave found a way. He could have threw his hands up and said sorry, but instead, he worked through all proper channels to help me get the best deal possible. He didn't settle, and he didn't expect me either. He went above and beyond to make sure I wasn't taken advantage of and that I compiled with all the necessary agencies to protect my interest. He ALWAYS returned my calls or e-mails promptly. He sometimes had to push me (just a little) to get my lawyer to move things along, but without his expertise and commitment I would have not known or understood how any of this process worked. I highly recommend Vandewater & Associate especially if you are selling or buying because he will have your back! Thank you so so so so so much!

"

T. Wilson
CHECK OUT OUR NEW X-PRESS PAY!!!




Or
E-CHECKS