VandeWater & Associates
Licensed Real Estate Brokerage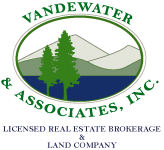 OUR COMPANY
The Adirondacks' Premier Land Company
With over 32 years of experience, VandeWater & Associates, Inc. is the unrivaled leader of the highest quality of property investments in the Adirondack and Tug Hill region in beautiful Upstate New York.
The VandeWater Approach to Business
Our philosophy is to focus on one magnificent property at a time to be sure that it meets our high standards and ultimately, yours. Our properties are chosen based on a multitude of criterion and go through a rigorous assessment by our experts. We take the time to learn about your objectives and specific interests so that we can provide affordable Adirondack properties that are the right fit for you.
Only VandeWater & Associates Guarantees 100% Customer Satisfaction
Our founder, David VandeWater, believes so much in the quality of our land that he personally guarantees customer satisfaction or we will repurchase your property and refund your money. Our complete package guarantees every one of our properties to be buildable. This includes a certified NYS survey along with a warranty deed and clear title. We stand behind our commitment to you as a VandeWater customer and make certain that you are satisfied – no other land company in the Adirondack region will make you this promise.
A Wealth of Knowledge and Experience
At VandeWater & Associates, Inc., we pride ourselves on our Adirondack land expertise. Our staff specializes in all aspects of land sales and development and has comprehensive knowledge of the Upstate New York/Adirondack region. From engineers and excavators, to surveyors and sales people, our highly qualified and dedicated experts are here to provide you with the best quality service and properties in the Adirondack and Tug Hill region and assist you through all phases of your acquisition. We understand the value of your investment in Adirondack land. Our extensive land sales and development experience and competitive pricing will help make your dream of owning the best quality of Upstate New York property come true. We guarantee it.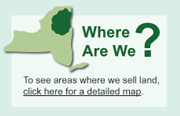 "

Geri and I had been searching for a country home for better than two years. We looked in various states without success. Then we had the good fortune to speak to VandeWater & Associates. They understood our interest and needs and introduced us to the property that became our new home. The log home and the large property was a perfect match.




They spent endless time with us showing the property and answering the multitude of questions we had concerning moving from city life to a rural and lovely setting. They introduced us to neighbors as well as local merchants and services that have proven invaluable in this dramatic and wonderful change. Even after the closing he continues to stay in touch. They continue to show interest in how we are doing in our new local.




The entire process was professional and friendly. We greatly appreciate the interest they took in all aspects of this venture of ours.

"

David & Geri Masaryk
CHECK OUT OUR NEW X-PRESS PAY!!!




Or
E-CHECKS