VandeWater & Associates
Licensed Real Estate Brokerage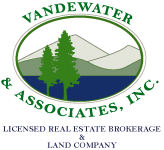 * NEW * NEW * NEW * Posted 9/2/2020
Tug Hill Plateau Land Sale
9.2 Acres with access to a large tract of state land . Over 402 feet of town road frontage directly on ATV and groomed snowmobile trail system.
Only $28,900
*** OTHER LOTS AVAILABLE ***
315-348-8884/800-615-2321 www.vandewaterland.com
Click here for details
Beautiful Tug Hill & Adirondack Land for Sale in NY!
Upstate New York Land for Sale — Breathtaking, Affordable, and Easily Accessible
Experience the magnificence of Upstate New York land with the picturesque Adirondack and Tug Hill regions as your backdrop. VandeWater and Associates Land Company offers a fantastic selection of the highest quality property investments in the Northeast including:
VandeWater Land for Sale in New York State —
The smart investment with the only 100% Buy-Back Guarantee!
Upstate New York land is one of the smartest investments you can make in today's economy. And with VandeWater, your investment is covered by the only
100% Buy-Back Guarantee
in the industry! That means we guarantee the land you purchase is 100% suitable for building and development.
Only VandeWater has the experience you want,
the knowledge you expect, and the services you need
VandeWater has over 30 years experience selling, buying, and living in the breathtaking regions of Upstate New York. We love the area, we know the land, and we've got everything you need to turn your vision into a reality:
Call us anytime for questions, information, or to personally visit any of the exciting properties listed on our site. We are available for appointments 7 days a week.
Click here to Like us on Facebook to get Exclusive Sales and Share with your friends!!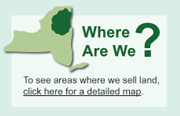 "

Geri and I had been searching for a country home for better than two years. We looked in various states without success. Then we had the good fortune to speak to VandeWater & Associates. They understood our interest and needs and introduced us to the property that became our new home. The log home and the large property was a perfect match.




They spent endless time with us showing the property and answering the multitude of questions we had concerning moving from city life to a rural and lovely setting. They introduced us to neighbors as well as local merchants and services that have proven invaluable in this dramatic and wonderful change. Even after the closing he continues to stay in touch. They continue to show interest in how we are doing in our new local.




The entire process was professional and friendly. We greatly appreciate the interest they took in all aspects of this venture of ours.

"

David & Geri Masaryk
CHECK OUT OUR NEW X-PRESS PAY!!!




Or
E-CHECKS