VandeWater & Associates
Licensed Real Estate Brokerage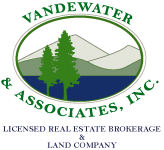 Upstate NY Now
Trout Fishing in the North Country - DEC Stocks Rivers & Flows
Upstate NY Stocked Flows - Rainbow, Brook and Brown Trout ​
Stocked waters make ideal destinations for anglers, and 18 flows in St. Lawrence, Lewis, Jefferson, and Franklin counties are expected to receive trout.
In St. Lawrence County, the Oswegatchie River downstream of the Cranberry Lake outlet in the town of Clifton is expected to be stocked with 2,000 brook trout for the opening of the season.
Other St. Lawrence County streams slated for stocking are Hopkinton Brook in the town of Hopkinton (620 brown trout), Brook Trout in the town of Stockholm (1,240 brown trout), and Van Rensselaer Creek in the town of Pierrepont (220 brown trout).
Numerous stockings are planned for Lewis County waters during May, but the only flows scheduled to receive April stockings are Crystal Creek in the town of New Bremen (400 brown trout), Fish Creek East Branch in the town of Lewis (650 brown trout), and Point Rock Creek in the town of Lewis (1,090 brown trout).
The four waters where brook trout will be stocked are Black Creek West Branch in the town of Wilna (500), Felts Mills Creek in the towns of Champion and Rutland (1,200), Jacobs Creek in the towns of Watertown and Rutland (850), and Townsend Creek in the town of Champion (900).
Brown trout will be stocked in Black Creek in the towns of Philadelphia and Wilna (2,910), Sandy Creek in the town of Adams (1,450), and Skinner Creek in the town of Ellisburg (290).
Six Franklin County waters slated for early-season stockings are Chateaugay River in the towns of Chateaugay and Bellmont (6,700 brook trout and 1,090 brown trout), Little Salmon River in the towns of Moira and Bangor (2,110 brown trout), Little Trout River in the towns of Burke and Constable (2,040 brown trout), Salmon River in the town of Malone (3,800 rainbow trout and 7,780 brown trout), Saranac River in the town of Harrietstown (400 rainbow trout), and Sumner Brook in the town of Bloomingdale (300 brook trout).
Early-Season Tips
Spring is a time of change for trout flows, and because tackle shops are in daily contact with anglers, these businesses are excellent sources of up-to-date, fishing information.
In addition to providing the most current information on stockings, hatches, effective techniques, water temperatures, flow levels, water clarity, access, and more - Tackle Shops carry needed supplies.
When deciding where to fish at this time of the year, anglers should look for streams in lower elevations as these waters will warm before those at higher elevations.
Anglers also may want to fish smaller flows as they typically have less current, less turbidity, and higher water temperatures than larger flows. Another good bet is to fish tributaries because they typically offer improved conditions.
The best chances of catching trout are in the upper stretches or the deep-water stretches of the flow. Prime locations include calm pools, outside bends, pools below waterfalls, and the slack water behind bridge abutments.
The basic motto of anglers for early-season presentations is "slow and low," and the technique of adding split shot is the standard method of slowing an offering and getting in down to bottom-holding trout.
An offering that also appeals to multiple senses has the best odds for success. In essence, live baits (where permitted) such as crawlers and minnows work well because of their realistic appearance, taste, scent, and texture, and live baits lend themselves to a "slow and low" presentation.
The best fishing times of early spring occur when water temperatures are at their warmest so trout are likely to be most active during the midday hours, on sunny days, on consecutive warm days, and after a warm, rain shower.
For the 2021 NYS DEC List of Trout Stocks by County, go to: http://www.dec.ny.gov/outdoor/30465.html
Top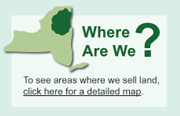 "

Geri and I had been searching for a country home for better than two years. We looked in various states without success. Then we had the good fortune to speak to VandeWater & Associates. They understood our interest and needs and introduced us to the property that became our new home. The log home and the large property was a perfect match.




They spent endless time with us showing the property and answering the multitude of questions we had concerning moving from city life to a rural and lovely setting. They introduced us to neighbors as well as local merchants and services that have proven invaluable in this dramatic and wonderful change. Even after the closing he continues to stay in touch. They continue to show interest in how we are doing in our new local.




The entire process was professional and friendly. We greatly appreciate the interest they took in all aspects of this venture of ours.

"

David & Geri Masaryk