VandeWater & Associates
Licensed Real Estate Brokerage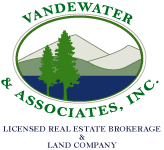 UNBELIEVABLE SALE FOR MAY 2016 107 ACRES WITH 450 FEET ON A BEAUTIFUL ADIRONDACK POND NATURALLY FED BY YOUR OWN CRYSTAL CLEAR STREAM BORDERING A LARGE TRACT OF STATELAND ONLY $654 PER ACRE $69,900
Click here for details
Cabins
VandeWater & Associates is excited to announce our recent partnership with Adirondack Builders Inc., who is the exclusive seller of Tennessee Log, Timber Frame and Natural Element home and cabin kits.
Stop by our office to see our new gallery of these beautiful Adirondack structures along with our new inventory of land for 2011.
For further information contact our office at (315) 348-8884
m or email us at
david@vandewaterland.com
Top
Featured Property
83 Acre Sportsmans Paradise
View more info ..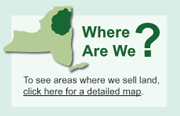 "Geri and I had been searching for a country home for better than two years. We looked in various states without success. Then we had the good fortune to speak and meet with Bob (Sales Agent for VandeWater & Associates) He understood our interest and needs and introduced us to the property that became our new home. The log home and the large property was a perfect match.

Bob spent endless time with us showing the property and answering the multitude of questions we had concerning moving from city life to a rural and lovely setting. He introduced us to neighbors as well as local merchants and services that have proven invaluable in this dramatic and wonderful change. Even after the closing he continues to stay in touch. He continues to show interest in how we are doing in our new local.

The entire process was professional and friendly. We greatly appreciate the interest he took in all aspects of this venture of ours."

David & Geri Masaryk