VandeWater & Associates
Licensed Real Estate Brokerage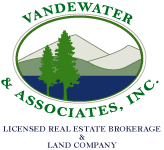 VANDEWATER & ASSOCIATES WOULD LIKE TO TAKE A MOMENT THROUGH THESE CRAZY AND PECULIAR DAYS TO SAY THAT WE KNOW NO MATTER WHERE YOU AND YOUR FAMILY ARE RIGHT NOW WE PRAY FOR YOUR HEALTH AND SAFETY AND WANT YOU TO STILL DREAM ABOUT OWNING YOUR OWN PROPERTY TO ENJOY THE SOUNDS OF CASCADING STREAMS AND RIVERS WHILE YOU IMAGINE SITTING AT THE CRACKLING AND SOOTHING SOUNDS OF YOUR CAMPFIRE. WE ARE HERE TO REMIND YOU AND SHARE WITH YOU OUR CURRENT INVENTORY OF PROPERTIES THAT WILL HOPEFULLY HELP YOU FORGET OF ALL THE CRAZINESS THAT WE HAVE ALL EXPERIENCED RECENTLY AND WILL NEVER LET GO IN OUR HEARTS. I WANT TO BRING YOU AND YOUR FAMILY AS CLOSE TO NATURE AS ONE COULD IMAGINE. BREATH THE AIR, SMELL THE AROMAS OF THE SEASONS AND CREATE MEMORIES THAT WILL NEVER BE FORGOTTEN ABOUT.
CALL ME ABOUT ANY OF OUR PROPERTIES AT ANY TIME AT 315-348-8884 OR WWW.VANDEWATERLAND.COM
THANK YOU FOR CONSIDERING US : DAVID VANDEWATER , PRESIDENT VANDEWATER & ASSOCIATES
​
Click here for details
Land Clearing
Whatever your land clearing needs may be, driveways, building sites, recreational trails, or septic systems, our expert excavators can offer competitive pricing and the experience you need to get your property cleared to your specifications.

For all of you sportsmen who want some of the best food plots and deer management areas on your hunting land call us today. As an active sponsor for Q.D.M.A. (Quality Deer Management Association) VandeWater & Associates can show you how to make your property attract and maintain trophy bucks.

Talk to your VandeWater & Associates representative so we can connect you to the professionals you need to complete your land clearing project.
Top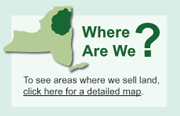 "

Geri and I had been searching for a country home for better than two years. We looked in various states without success. Then we had the good fortune to speak to VandeWater & Associates. They understood our interest and needs and introduced us to the property that became our new home. The log home and the large property was a perfect match.




They spent endless time with us showing the property and answering the multitude of questions we had concerning moving from city life to a rural and lovely setting. They introduced us to neighbors as well as local merchants and services that have proven invaluable in this dramatic and wonderful change. Even after the closing he continues to stay in touch. They continue to show interest in how we are doing in our new local.




The entire process was professional and friendly. We greatly appreciate the interest they took in all aspects of this venture of ours.

"

David & Geri Masaryk