VandeWater & Associates
Licensed Real Estate Brokerage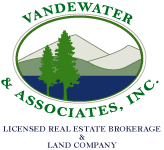 OVER 1000 FEET ON A SPECTACULAR ADIRONDACK RIVER FRONTAGE WITH A MAGNIFICENT WATERFALL AND OVER 1300 FEET ON A BEAUTIFUL ADIRONDACK POND
70 ACRES UNBELIEVABLE PARK LIKE FOREST WITH TOWN ROAD FRONTAGE AND INTERIOR TRAILS. TROPHY BIG GAME HUNTING
PRICED TO SELL FAST AT ONLY $79,900
Click here for details
Testimonials
I can't say enough about the professional service I received while selling my property. I dare say that there hasn't been a harder property to sell and yet, Bob Daniels found a way. He could have threw his hands up and said, sorry, but instead, he worked through all proper channels to help me get the best deal possible. He didn't settle, and he didn't expect me either. He went above and beyond to make sure I wasn't taken advantage of and that I compiled with all necessary agencies to protect my interests. He ALWAYS returned my calls or e-mails promptly. He sometimes had to push me (just a little) to get my lawyer to move things along, but without his expertise and commitment I would not have known or understood how any of this process worked. I highly recommend VandeWater & Asssociates especially if you are new to selling or buying because he will have your back! Thank you so so so so so much!
T Wison
"...although the property was a considerable distance from where we live, we decided to inquire about it. After our phone call to Dave and Bob we received more information about different listings and the area they were in, we made an appointment with Bob to see it personally. The following Saturday Bob showed us not only the property we were interested in but also other places for sale. Bob paid attention to our needs and concerns, without pressuring us to make an immediate decision. When we returned home we decided to buy but the distance of this place was still bothersome. Bob and Dave, you assured us that you would assist us with anything we needed not only during the transaction but also afterwards.

To say the least, our transaction was smooth and the settlement took place without us being there in person. The whole VandeWater office, Bob, Dave and Shannon were very professional and kept their word in assisting us with different matters, even still to this day. For that we are indeed grateful.

Thank you for keeping your word, for your professionalism and great services. We will be happy to refer you to anyone who is about to buy property in your area."

Walter & Vera Bursztynski


Top
Featured Property
Private Pond On 45 Acres
View more info ..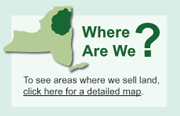 "

I purchased a beautiful Adirondack property four years ago from VandeWater & Associates. It was among several parcels expertly developed by VandeWater along the East Canada Creek including a substantial access road, adequately cleared home site and a secure gate. I was pleased with the professionalism, courtesy, and attention to detail demonstrated by VandeWater during the sale transaction and was similarly impressed when he efficiently brokered the sale of my property to a new owner. I had a very positive experience dealing with VandeWater & Associates and would enthusiastically recommend them to anyone interested in owning property in upstate New York or wherever he transacts his business.

"

A. Fleischer, M.D.