VandeWater & Associates
Licensed Real Estate Brokerage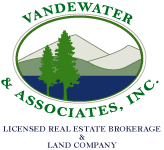 OWN YOUR OWN POND
50 ACRES WITH YOUR OWN CRYSTAL CLEAR POND IN THE MIDDLE OF THIS BEAUTIFUL ADIRONDACK TRACT
THIS UNIQUE PROPERTY IS BORDERED BY A MASSIVE TRACT OF FOREVER WILD COUNTY AND STATELAND WITH OVER 1150 FEET OF PAVED ROAD FRONTAGE WITH ELECTRIC AND TELEPHONE. COMPLETE WITH NEW DRIVEWAY AND CLEARING OVERLOOKING YOUR OWN PRIVATE POND
ONLY $62,900
CALL TO SCHEDULE AN APPOINTMENT TODAY 315-348-8884/800-615-2321
Click here for details
Testimonials
I can't say enough about the professional service I received while selling my property. I dare say that there hasn't been a harder property to sell and yet, Bob Daniels found a way. He could have threw his hands up and said, sorry, but instead, he worked through all proper channels to help me get the best deal possible. He didn't settle, and he didn't expect me either. He went above and beyond to make sure I wasn't taken advantage of and that I compiled with all necessary agencies to protect my interests. He ALWAYS returned my calls or e-mails promptly. He sometimes had to push me (just a little) to get my lawyer to move things along, but without his expertise and commitment I would not have known or understood how any of this process worked. I highly recommend VandeWater & Asssociates especially if you are new to selling or buying because he will have your back! Thank you so so so so so much!
T Wison
"I would like to take this opportunity to express my sincere gratitude to Bob Daniels and the staff of VandeWater & Associates. Although I now live in Virginia, my heart has always been in the Adirondacks. Over the years my wife and I have searched high and low for property in or near the park. Until we came into contact with Bob and VandeWater & Associates I had almost given up hope of finding my dream retirement spot. Bob spent the better part of a cold winter day walking a piece of ground with me, locating property corners and introducing me to my dream. With his help and guidance my wife and I were successful in our quest and are looking forward to a quiet retirement home in the north woods. Thank you VandeWater & Associates, and a special Thank you to Bob Daniels!"

Mike Piontka


Top
Featured Property
Private Pond On 50 Acres
View more info ..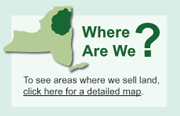 "

I purchased a beautiful Adirondack property four years ago from VandeWater & Associates. It was among several parcels expertly developed by VandeWater along the East Canada Creek including a substantial access road, adequately cleared home site and a secure gate. I was pleased with the professionalism, courtesy, and attention to detail demonstrated by VandeWater during the sale transaction and was similarly impressed when he efficiently brokered the sale of my property to a new owner. I had a very positive experience dealing with VandeWater & Associates and would enthusiastically recommend them to anyone interested in owning property in upstate New York or wherever he transacts his business.

"

A. Fleischer, M.D.