VandeWater & Associates
Licensed Real Estate Brokerage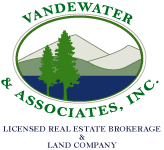 OWN YOUR OWN POND
50 ACRES WITH YOUR OWN CRYSTAL CLEAR POND IN THE MIDDLE OF THIS BEAUTIFUL ADIRONDACK TRACT
THIS UNIQUE PROPERTY IS BORDERED BY A MASSIVE TRACT OF FOREVER WILD COUNTY AND STATELAND WITH OVER 1150 FEET OF PAVED ROAD FRONTAGE WITH ELECTRIC AND TELEPHONE. COMPLETE WITH NEW DRIVEWAY AND CLEARING OVERLOOKING YOUR OWN PRIVATE POND
ONLY $62,900
CALL TO SCHEDULE AN APPOINTMENT TODAY 315-348-8884/800-615-2321
Click here for details
Testimonials
I can't say enough about the professional service I received while selling my property. I dare say that there hasn't been a harder property to sell and yet, Bob Daniels found a way. He could have threw his hands up and said, sorry, but instead, he worked through all proper channels to help me get the best deal possible. He didn't settle, and he didn't expect me either. He went above and beyond to make sure I wasn't taken advantage of and that I compiled with all necessary agencies to protect my interests. He ALWAYS returned my calls or e-mails promptly. He sometimes had to push me (just a little) to get my lawyer to move things along, but without his expertise and commitment I would not have known or understood how any of this process worked. I highly recommend VandeWater & Asssociates especially if you are new to selling or buying because he will have your back! Thank you so so so so so much!
T Wison
"As spring approaches and my friends and I plan the upcoming season at my new camp, I'd like to take this opportunity to thank you for a pleasurable land purchasing experience. With the help of VandeWater & Associates, I am the proud owner of a beautiful wooded parcel in Herkimer County, NY. My dream of owning a hunting camp for myself, friends and family is now a reality.

Looking for a piece of land for my camp was a bit of a challenge. I wanted property that felt remote, yet was still close enough to civilization for needed food, supplies, lodging, etc. Not an easy find. In my price range, the majority of the land other realtors offered was either so remote as to not allow access for a good portion of the year or was so close to civilization that it backed up to a highway with tractor trailers speeding by day and night. I found the property that you offered to be just what I was looking for.

I have, in the past, purchased real estate, but this was my first time buying rural undeveloped land. As you would expect, I was full of concerns and questions. Your associate, Bob Daniels, helped me along every step of the process and handled my many telephone calls with patience and professionalism. He was very familiar with the land and took the time to walk the entire property with me on more than one occasion. ( The last time as I remember, was in snow up to our knees in 12 degree weather. That's what I call going above and beyond the call of duty) Even after the sale, Bob has been, and continues to be, a great resource to me as a land owner, offering his advice and assistance should it be needed. His help is truly appreciated.

I know first hand that purchasing land can be a harrowing experience. There are many less reputable realtors out there looking to take advantage of the land buyer. I never for a minute felt that about your company. Your team took the time to clearly explain things to me and gave me the tools and "space" I needed to make an informed, sound investment. I would highly recommend VandeWater & Associates to anyone in the market for upstate New York property.

Please give my thanks again to your staff."

Brian Veit


Top
Featured Property
Private Pond On 50 Acres
View more info ..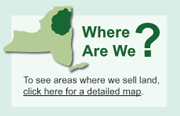 "

Bob,

We really appreciate you finding this property for us. We camped there for the first time and it was everything we hoped for and more. We got to meet the neighbors and their dogs and everyone was very nice. We wish we could get there more often. So thank you again for all your help. We would gladly recommend you and your company to anyone.

Sincerely;

Joe and Karen Connelly

June 2016

"

Joe and Karen C