VandeWater & Associates
Licensed Real Estate Brokerage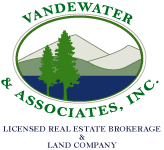 SAVE $10,000
WINTER ACREAGE AND WATERFRONT SALE
70 ACRES WITH OVER 1000 FEET ON A SPECTACULAR ADIRONDACK RIVER COMPLETE WITH 1300 FEET ON PRIVATE POND
WAS $79,900 NOW ONLY $69,900, "UNBELIEVABLY PRICED"
COME AND SEE THIS WINTER WONDERLAND INVESTMENT TODAY 315-348-8884
Click here for details
Testimonials
I can't say enough about the professional service I received while selling my property. I dare say that there hasn't been a harder property to sell and yet, Bob Daniels found a way. He could have threw his hands up and said, sorry, but instead, he worked through all proper channels to help me get the best deal possible. He didn't settle, and he didn't expect me either. He went above and beyond to make sure I wasn't taken advantage of and that I compiled with all necessary agencies to protect my interests. He ALWAYS returned my calls or e-mails promptly. He sometimes had to push me (just a little) to get my lawyer to move things along, but without his expertise and commitment I would not have known or understood how any of this process worked. I highly recommend VandeWater & Asssociates especially if you are new to selling or buying because he will have your back! Thank you so so so so so much!
T Wison
"

I purchased a beautiful Adirondack property four years ago from VandeWater & Associates. It was among several parcels expertly developed by VandeWater along the East Canada Creek including a substantial access road, adequately cleared home site and a secure gate. I was pleased with the professionalism, courtesy, and attention to detail demonstrated by VandeWater during the sale transaction and was similarly impressed when he efficiently brokered the sale of my property to a new owner. I had a very positive experience dealing with VandeWater & Associates and would enthusiastically recommend them to anyone interested in owning property in upstate New York or wherever he transacts his business.

"

A. Fleischer, M.D.
Top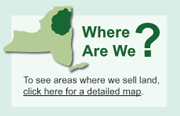 "have been more pleased and satisfied with my dealings with Mr. (Bob) Daniels. Everything was up front and Mr. Daniels went the extra mile on all occasions. I have dealt with other realtor's in my life and this was the best experience yet. Again I couldn't be more satisfied."

Joseph J. McConnell