VandeWater & Associates
Licensed Real Estate Brokerage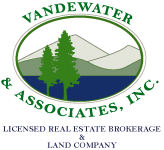 4.48 ACRES WATSON,
LEWIS COUNTY, NY
Only minutes away from some of the best fishing
and boating rivers in the Western Adirondacks.
Over 325 feet of paved Town Road frontage on the
Kotel Rd, with electric and high-speed internet.
ONLY $25,900
Click here for details
Land Clearing
Whatever your land clearing needs may be, driveways, building sites, recreational trails, or septic systems, our expert excavators can offer competitive pricing and the experience you need to get your property cleared to your specifications.

For all of you sportsmen who want some of the best food plots and deer management areas on your hunting land call us today. As an active sponsor for Q.D.M.A. (Quality Deer Management Association) VandeWater & Associates can show you how to make your property attract and maintain trophy bucks.
Talk to your VandeWater & Associates representative so we can connect you to the professionals you need to complete your land clearing project.
Top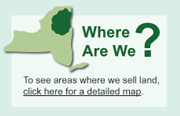 "

My wife and I had been looking at camps/cabins on and off for a few years - we never really considered purchasing land to build on - thought it would be far too much work. When we came across a piece of property that we thought had potential, we contacted Vandewater and received a call back from Marilyn. We found her to be very welcoming, always accommodating with meeting times, and most importantly, we found her to be authentic. She was honest, explained things in plain English, had an excellent working knowledge of the area, and helped make us feel comfortable. Now that we've purchased the property, we continue to contact Marilyn from time to time for service recommendations, etc - she's as responsive and welcoming post sale as she was pre-sale. We'd recommend working with her in a heartbeat - Scott & Lorraine Fountain

"

Scott and Lorraine Fountain