VandeWater & Associates
Licensed Real Estate Brokerage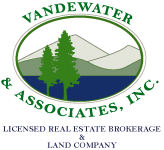 4.48 ACRES WATSON,
LEWIS COUNTY, NY
Only minutes away from some of the best fishing
and boating rivers in the Western Adirondacks.
Over 325 feet of paved Town Road frontage on the
Kotel Rd, with electric and high-speed internet.
ONLY $25,900
Click here for details
What is a 1031
Section 1031 of the Internal Revenue Code provides that no gain or loss shall be recognized on the exchange of property held for productive use in a trade or business, or for investment. A tax deferred exchange is a method by which a property owner trades one or more relinquished properties for one or more replacement properties of like-kind, while deferring the payment of federal income taxes and some state taxes on the transaction.
Top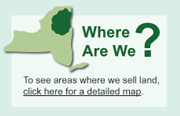 "

Selling my Adirondack cabin was truly a bittersweet decision for me, but Marilyn and Dave's warmth, professionalism, and deep knowledge of the market gave me confidence and comfort throughout the process. Marilyn communicated regularly and clearly and was super-responsive, and the whole transaction couldn't have gone more smoothly.

Rebecca Downing

"

Rebecca Downing